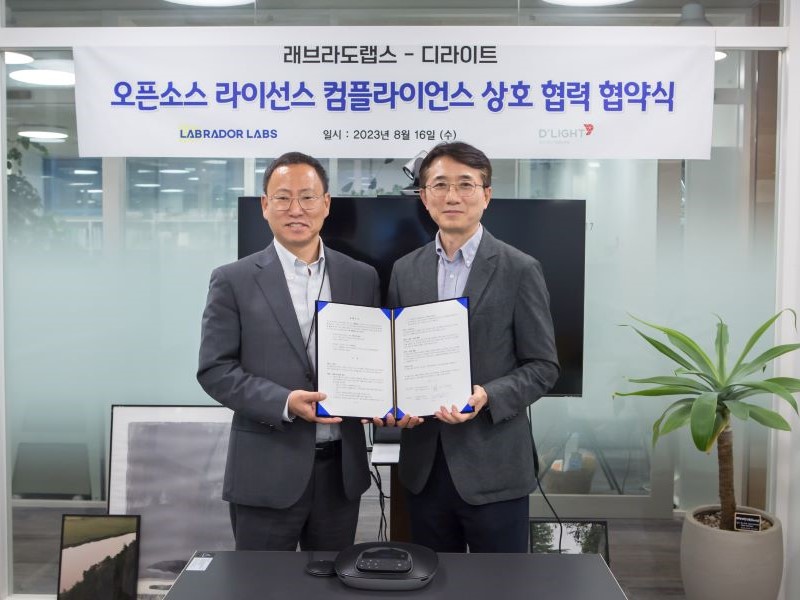 Labrador Labs (CEOs: Jinseok Kim and Heejo Lee), a Software Composition Analysis (SCA) solution provider company, announced that they had signed MoU for Open Source License Compliance with D'LIGHT Law Group on Aug 16, 2023.
By this MOU announcement, Labrador Labs will work with a leading law firm specialized in startups to provide efficient consulting for companies who want to adopt and manage open source software.
Based on this agreement, Labrador Labs will actively cooperate in resolving customer issues such as establishing policies and providing educational materials to prevent open source license compliance issues in particular.
"The use of open source in new technology areas such as blockchain and artificial intelligence is becoming more and more common thing," said Wonhee Cho, the representative attorney of D'LIGHT Law Group. "Resolving legal issues related to open source is not just a matter of whether a service is illegal or not, but it can be a major risk for companies and therefore requires a careful response."
Jinseok Kim, the CEO of Labrador Labs, said, "Through this MOU, we will provide more professional open source governance consulting to companies to help them avoid damages due to license compliance issues."
In recent years, companies have been utilizing open source software actively for better quality and cost reduction. By this process, license and copyright violations are taking places due to developers not complying with the licenses regulated for using open source software.
The two companies plan to conduct various activities for companies to proactively respond to such issues.
Original article: https://www.dailysecu.com/news/articleView.html?idxno=148671